This Part 2 decal sheet focuses on four A-4 Skyhawk squadrons in the Vietnam War. Typical for most of AOA's coverage of Vietnam USN/USMC aircraft, this sheet also provides the modeler with the choice of time periods for a specific squadron; and in the case of the A-4, also a choice of aircraft with and without the later avionics hump if appropriate. An exception is VMA-214, who only operated the A-4C in Vietnam.
VMA-214 is only represented with decals for their markings used during the latter part of their Vietnam deployment - initially their aircraft at Chu Lai did not have the unique squadron markings on the fuselage or rudder/tail apart from the WE tail codes. The somewhat simplified stylized jumping ram/blacksheep on the fuselage carried in Vietnam was further elaborated with additional detail in the later 1960's.
Similar to the VMA-223 bulldog insignia on A-4 aircraft in Vietnam, the later common VMA-311 insignia is nearly always shown in illustrations (and in decals) with significant black outlining, varying details, and various colors for the rocket - presumably due to basing the appearance on more modern VMA-311 examples and/or squadron patch detail. The original Vietnam-era marking was apparently sprayed on the fuselage using stencils. As a result, the alignment between all the components (outer circle, heart, rocket, tomcat, etc) varied such that each aircraft's insignia was slightly unique (in more than one case the cat was "sitting" over the rocket rather than on it). The late style insignia decals provided on this sheet were based on the actual Vietnam marking on the A-4 (and in the case of WL-4 and WL-16, on the specific marking on those particular airframes), and as such, are significantly closer in appearance to the original VMA-311 marking than has been portrayed generically in the past.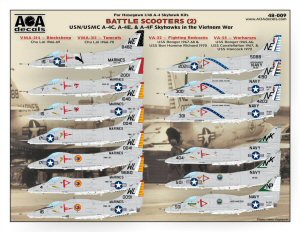 [Decals released December 2016]

For Hasegawa 1/48 A-4 Skyhawks
13 Marking Options Included:
VMA-214 Blacksheep - one A-4C option from Chu Lai, South Vietnam, 1966/67
VMA-311 Tomcats - six options from Chu Lai, South Vietnam, spanning between 1966-70
VA-22 Fighting Redcocks - one A-4C option from USS Ranger 1967-68 and two A-4F options from USS Bon Homme Richard 1970 (one CAG, one line scheme)
VA-55 Warhorses - three options, one A-4E from USS Ranger 1965-66, one A-4C from USS Constellation 1967, and one A-4F from USS Hancock 1972
As usual with AOA releases, an extensive airframe stencil sheet is also included. Stencils are provided for one A-4; however, the stencil sheet is also available to purchase separately (see 48-004).